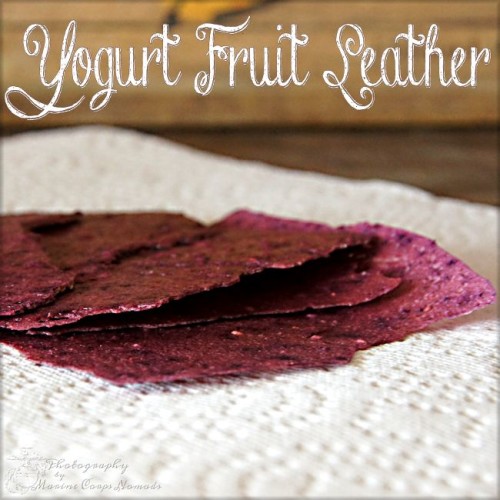 Special thanks to Lucky Star 14 LLC for providing samples of their dehydrator sheets to use in our home for evaluation.
Recently, I heard about a twist on regular fruit leather – yogurt fruit leather. It sounded like a snack that I'd really enjoy. We have lots of yummy fresh berries at the farmers market this time of year, so it was a perfect time to give them a try. (You can also used thawed frozen berries, if needed, which is what I did this time as we ate all of the fresh berries before I could make the yogurt fruit leather.) I chose to use plain, full-fat yogurt in my mixture. You may or may not want to add a little honey for extra sweetness as well as a dash of vanilla.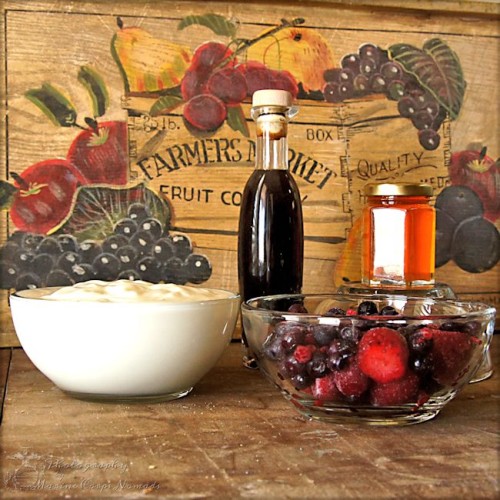 You can play with the ingredients according to your taste, but I used 2 cups of plain, organic yogurt, 1 cup of mixed organic berries, 1/2 tsp. homemade vanilla extract, and honey to taste. Keep in mind that flavors intensify when they are dehydrated. If you don't want a sour yogurt fruit leather, you'll want to make sure that you're yogurt and fruit mixture is sweetened to your liking. The amount of sweetener needed will vary depending on the sweetness of the fruit.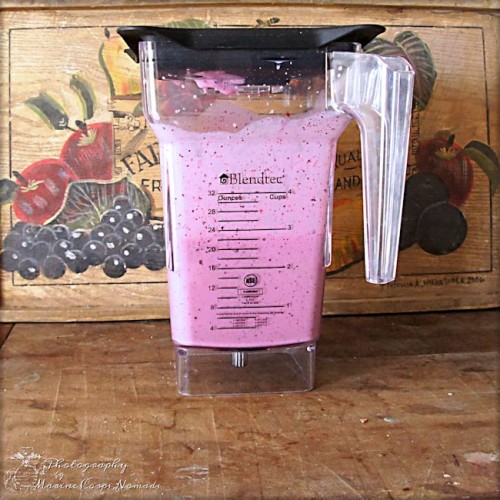 You'll combine all of the ingredients in a blender. (If you don't want any seeds in your fruit leather, you'll want to place the fruit in the blender and then strain before combining with the yogurt, vanilla, and honey.)
I used my Excalibur dehydrator set at 135 degrees. I lined my trays with dehydrator sheets.*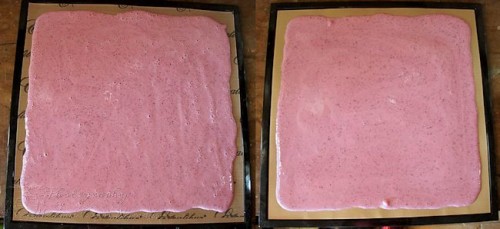 You'll spread the yogurt mixture equally on two dehydrator trays lined with the non-stick sheets. It's important that you spread the mixture evenly, so it will dehydrate at the same rate. Normally, the mixture will take from 6 to 8 hours to dehydrate depending on the temperature and humidity level. You'll want to start checking the mixture around 5 hours if you're in a really dry, warm climate, or you'll end up with yogurt fruit leather that's a little too crisp. (Yes, I'm speaking from personal experience.) Generally speaking, the yogurt fruit leather is done when it starts to peal up from the edges.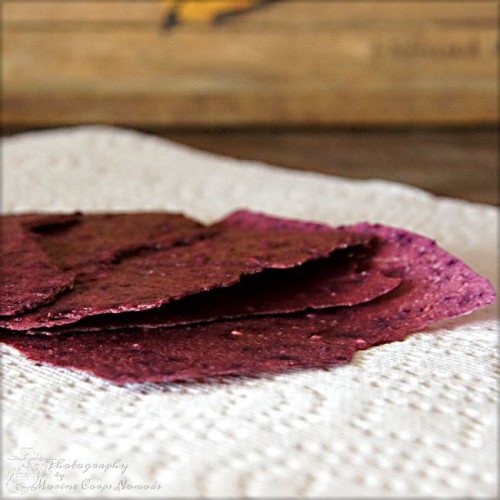 If you haven't kept the mixture in the dehydrator too long, like I did, then you'll have yogurt fruit leather that can be rolled up and stored. If it was in the dehydrator too long, you'll end up with yogurt fruit leather sheets. They're still yummy, but you won't be able to roll them up. Instead, you'll just store them in sheets.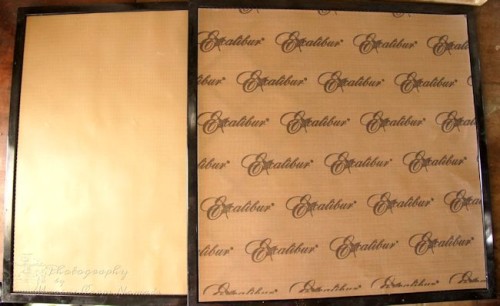 *A word about the dehydrator sheets:
I received the dehydrator sheets from Lucky Star 14 LLC that come in a pack of 9 for $16.99 (at the time of this posting). The Excalibur brand dehydrator sheets, on the other hand, generally run around $25 for a pack of 3. I was quite interested in seeing how these dehydrator sheets compared to the more expensive Excalibur brand.
Both sets of dehydrator sheets are non-stick, reusable 14″x14″ squares. They can be cut to size if you're not using an Excalibur dehydrator. They are both really flexible. The dehydrator sheets from Lucky Star 14 LLC are Teflon coated and BPA free. They are both dishwasher safe, but they are so easy to clean by hand that I don't see trying to wash them in the dishwasher.
The Excalibur dehydrator sheets are a little thicker and have a shinier, more smooth surface. That being said, they both performed pretty much the same when used in the dehydrator. If you're looking for a more affordable dehydrator sheet, I would definitely recommend checking out these dehydrator sheets.