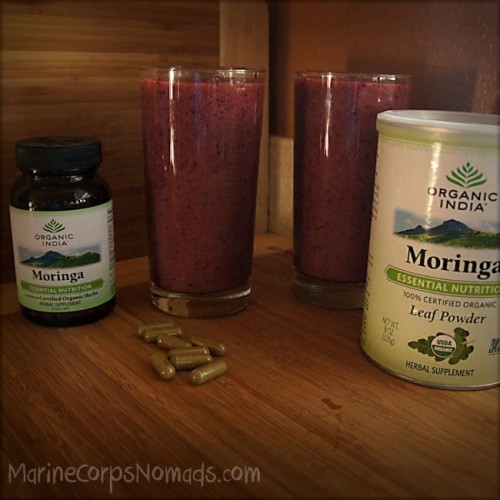 Special thanks to Organic India for providing a sample of their products through Moms Meet.
I first heard of Moringa when we moved to California. The health foods stores talked about this nutrient dense food that had over 90 nutrients, 46 antioxidants, and loads of minerals. It's a concentrated superfood  that is both alkalizing and energizing, and it's abundant in vitamins, minerals, and complex amino acids. People used it to help restore imbalances in their system and increase overall well-being.
The Organic India brand of Moringa products are USDA certified organic, non-gmo project verified, Kosher and Halal certified, gluten free, and vegan. They have a wide variety of products from teas to powers to capsules to help with your overall health.
The capsules are an easy way to add moringa to your diet. You take 4 capsules with food and water once a day. A bottle of 90 capsules will last less than a month and retails for $19.99. The capsules are pretty large, so some people may have difficulty swallowing them. While the capsules are convenient, I personally prefer the powder. The powder comes in a 8 oz. canister for $22.99.
You can add the Moringa Leaf Powder to pretty much anything, but I liked putting it into smoothies. It doesn't changed the flavor of the smoothie, but you can the added punch of nutrients from the Moringa. It would be fairly easy to hide the powder in a large number of foods if your child is a picky eater.