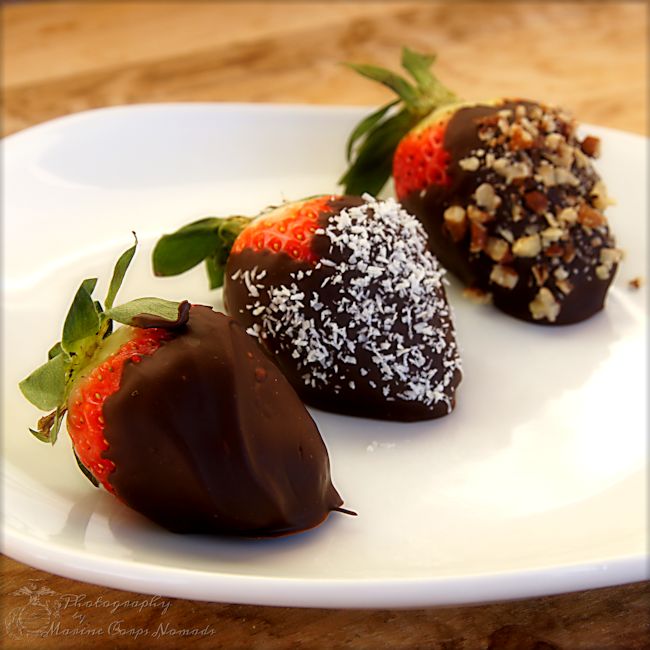 My mom was a huge fan of chocolate. While I didn't inherit the chocolate craze, Munchkin did. Her Daddy's sweet tooth comes and goes, so I never know when he'll be craving something sweet to eat. Before you think I'm crazy, I will say that I do enjoy chocolate, but I'm not one who craves it all the time. A little chocolate now and again works for me. I know, I know… I'm weird. lol!
My idea of a really good chocolate treat involves fruit and chocolate. One of the best pairings, in my opinion, is strawberries and chocolate. They have to be firm, ripe strawberries. I prefer to use organic strawberries when possible. Last year, the strawberries available this time of year were absolutely horrible, so we didn't get to enjoy a strawberry treat. This year? The organic strawberries were beautiful.
We've been seeing a lot of commercials for chocolate covered strawberries that can be delivered for Valentine's Day, but I wanted to be able to enjoy some chocolate covered strawberries right now. Those deliveries services can be great for times when you can't make things yourself or when you want to share a special treat with someone who doesn't live nearby. When D is deployed or TAD for a holiday, birthday, or anniversary, he'll often use a service like this just so he can send a little something our way.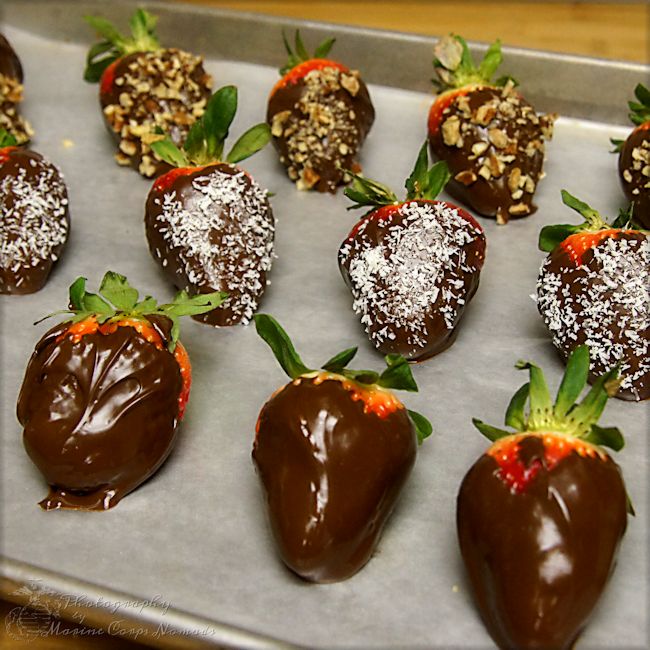 Around here, a 1 lb. container of organic strawberries cost around $5.99 when they are not on sale. (They aren't on sale for us right now.) If you're going for regular strawberries, you can them much cheaper – around $1.99 for a 1 lb. container. Because I prefer organic, I splurged and purchased the more expensive organic berries. It's important to be selective when purchasing strawberries as you don't want ones that are overly ripe.
I used chocolate chips that I had on hand as well as unsweetened coconut and pecans. (While I prefer dark chocolate for chocolate covered strawberries, Munchkin likes milk chocolate. For this batch, we went with milk chocolate.) So for just over $6.00, I was able to make 18 organic, chocolate covered strawberries.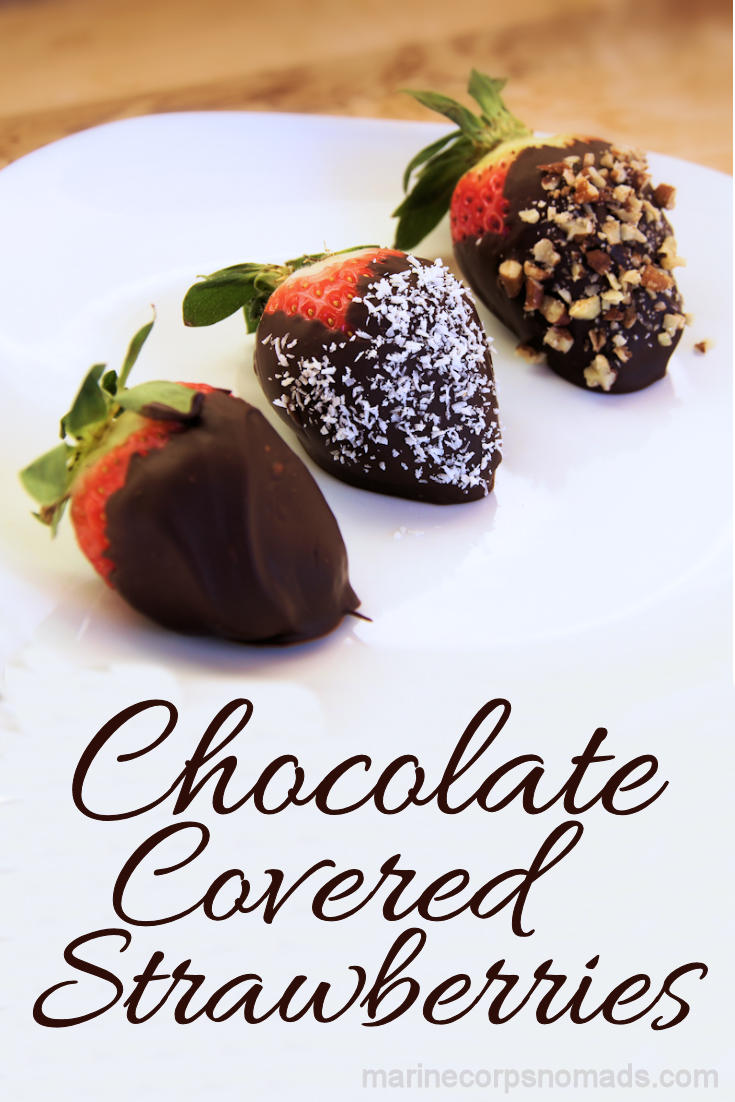 I love using white chocolate for these, but I was out of white chocolate. The dark chocolate and milk chocolate dipped berries look really pretty when drizzled with white chocolate. What are your favorite flavor combinations for chocolate covered strawberries?
Valentine's Day Treat: Chocolate Covered Strawberries
Chocolate covered strawberries are a perfect for special occasions or when you just want to sweet treat. They can be customize to personal preferences.
Ingredients
1 pound organic strawberries
1 cup chocolate chips (dark chocolate, milk chocolate, semi-sweet chocolate, white chocolate…)
1/2 tsp. coconut oil
1 Tbsp. unsweetened coconut (optional)
1 Tbsp. chopped nuts (optional)
Instructions
Clean and dry the strawberries.
Melt chocolate with coconut oil in double boiler or microwave.*
Line baking sheet with waxed paper.
Dip strawberries in chocolate – turning to coat the entire strawberry.
If desired, sprinkle on coconut or nuts.
Place strawberries on line baking sheet.
Put chocolate covered strawberries in refrigerator to set.
Notes
Storage Tips:
If strawberries are really ripe, you'll want to eat the strawberries within 24 hours. If the strawberries are firm and not really ripe, you can store them at room temperature for a couple of days. If the strawberries are firm and not really ripe, you can store them in a container in the refrigerator up to a week. For the best results, place a paper towel or cloth at the bottom of the container to absorb the moisture the strawberries give off.
Other Notes:
*For melting chocolate in the microwave… Microwave for 30 seconds and then stir. From that point on, microwave at 15 second intervals, stirring after each interval, until the chocolate is completely melted.
Fresh, firm strawberries that are ripe but not overly ripe are best for chocolate covered strawberries. If you're making these several days in advance, you may want to even use strawberries that are red, but slightly under ripe.
http://marinecorpsnomads.com/2015/02/valentines-day-treat-chocolate-covered-strawberries.html