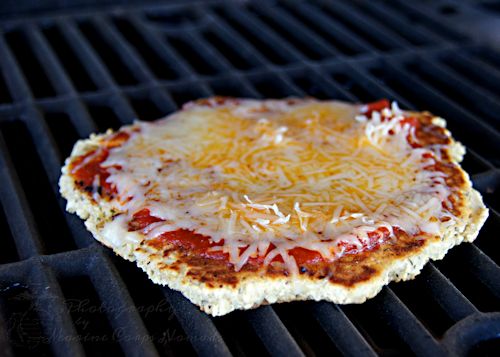 Have you ever tried grilling pizza? It has a completely different flavor and is perfect for those hot summer days where you don't want to heat up the house by turning on the oven.  I'm thrilled to have our grill back from the movers as it opens up the summer meal possibilities.
I was recently given the opportunity to be part of the Pillsbury Classic Pizza campaign, and I happily agreed as we love pizza. I have fond memories of using the classic Pillsbury pizza dough with my mom to make pizzas, so there was a bit of nostalgia involved as well. Pillsbury has recently come out with a gluten free refrigerated pizza dough for those people who are gluten free, so that means that even those who are gluten free can enjoy grilled pizza.
Making grilled pizza is a little more tricky with gluten free pizza dough as it tends to be a bit sticky, so you'll want to make sure that you sufficiently grease up the dough before you cook it. Basically, you're going to brush the one side of the pizza dough liberally with olive oil and flip that side onto the grill. While you'll cook the pizza dough over high high, you'll be finishing up the pizza after the toppings are added over medium heat as you don't want the crust to burn while you're cooking the toppings. (Note: you are precooking the dough before adding the toppings for best results.) Grilling pizza can be a family event by setting up a pizza topping bar, so everyone can create their own pizza filled with delicious toppings.
I like to sprinkle the dough with oregano and basil to punch up the flavor of the crust. Munchkin enjoys a simple cheese pizza while D enjoys lots of meaty goodness on his pizza. Me? It depends on what we have on hand. 🙂
****Giveaway****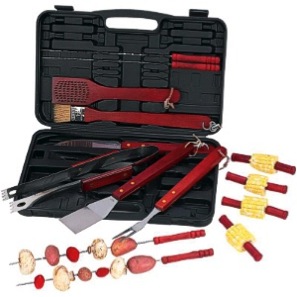 Want to give grilled pizza a try? I'm giving away a summer Pillsbury Classic Pizza Grilling kit to one lucky reader. The prize pack includes a 19-piece grill set in a nice case as well as a $10 gift card for pizza ingredients. Want the opportunity to win a grill to go with that grill set? Head over to the Pillsbury Pizza Pinspiration contest for more information (ends 7/31/13).  The giveaway is open to US residents only and ends 8/12/13.
Click to enter the Pillsbury Classic Pizza Grilling Rafflecopter Giveaway

Disclosure: The information and prize pack have been provided by General Mills through MyBlogSpark.