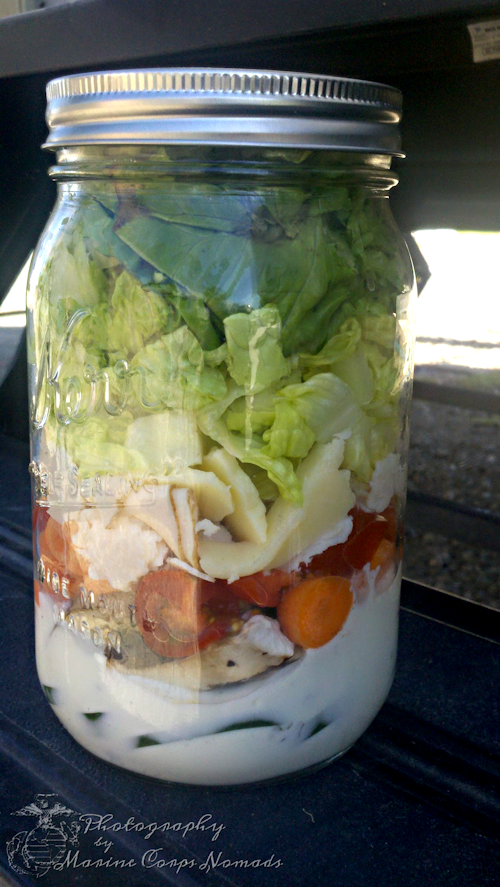 I've been seeing the idea of salads in a jar around the internet for some time now, but I never got around to really trying them until recently. A great abundance of produce from Bountiful Baskets combined with the craziness of the move lead me to dig deeper into the process. I wanted healthy, easy food for us while life was crazy.
Once I realized how easy they were, I decided that I needed to make some for D to allow him to continue to eat yummy food without all the prep when I wasn't there. I soon realized that I could make the salads last an entire week in the jar (with salad dressing) if I vacuumed sealed the jar.
To do this, I first made the salads in a jar. For our salads, I used the quart-sized jars. You start with the salad dressing of your choice on the bottom. Top that with your favorite variety of veggies. Add in meat and cheese (if desired). Finally, you cram in an entire heart of romaine lettuce to create a nice, large salad. Close up the top with your normal canning jar lids. To make them last longer, you vacuum seal the jar using the canning jar attachment for the FoodSaver. It's super easy to use, and allows you to make up an entire week's worth of salads at the beginning of the week.
It's much faster when you can do all the prep work and assembly at once rather than multiple times during the week. It also allows you to use up whatever fresh produce you have on hand. If you participate in Bountiful Baskets or go to Farmer's Markets on the weekend, it means you can process of that wonderful produce and make sure nothing goes to waste.
I haven't tried it on fruit salads yet, but it is on my "to-do" list.