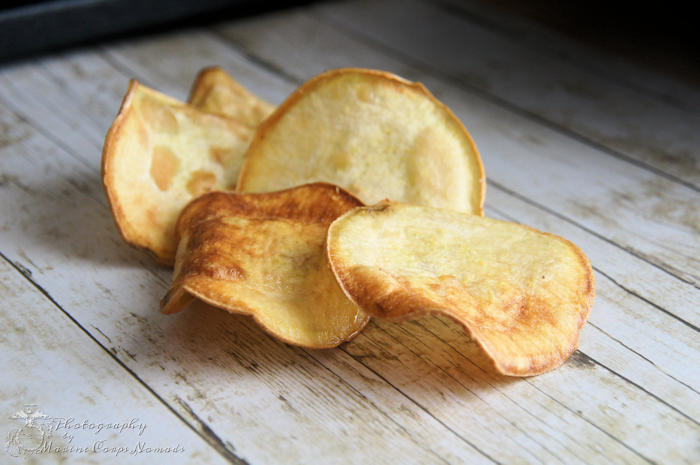 Homemade chips are a favorite side for burgers, hot dogs, steaks, grilled chicken… around our house. Because I'm trying to add more healthy options into our diets, I thought it would be good to try making sweet potato chips rather than chips made from regular "white" potatoes. Since I had several sweet potatoes from the CSA basket, it was a great time to give it a try.
I sliced the sweet potatoes into 1/8″ thick round chips and fried them until golden brown. While I used a fryer set at 350 degrees, you can use a cast iron pot filled no more than half way with oil. Just heat it to 350 degrees on the stove and fry the chips in small batches. With both the cast iron pot and fryer, you only want to make a handful of chips at a time or they will stick together and not cook properly.
Sweet potatoes fry up a bit differently than regular potatoes, so it's important to closely watch the cooking potatoes. It's very easy to overcook them. For even browning, you'll want to stir or turn them as they cook. Make sure the oil comes to 350 degrees in between each batch. The oil needs to be the proper temperature for best results.
While still warm, lightly salt the sweet potato chips with sea salt or another seasoning of your choice. The result? Delicious sweet and salty chips that were enjoyed by everyone – including Munchkin who isn't a huge sweet potato fan. In fact, they were enjoyed so much that the chips disappeared very quickly, and I received requests for more. Alas, there were no more to be had that day. They are definitely something that I'll be making again in the future.
It's nice to have chips that you feel comfortable giving to your family because you know all the ingredients are healthy.
Homemade Sweet Potato Chips
Ingredients
Sweet Potatoes
Sea Salt (optional)
Seasoning (optional)
Instructions
Preheat oil to 350 degrees.
Slice sweet potatoes into 1/8 inch rounds.
Carefully place a handful of potato rounds into the hot oil. Cook until lightly browned.
Remove from oil and place on paper towel.
Immediately season.
Allow to cool and serve.
http://marinecorpsnomads.com/2013/05/homemade-sweet-potato-chips.html