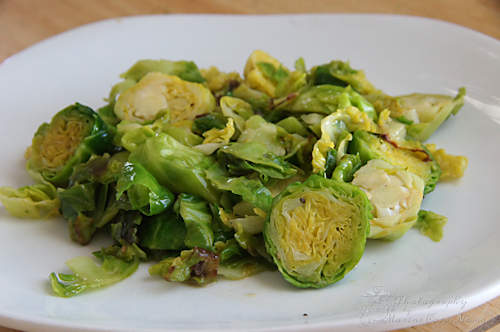 We received a bunch of fresh, organic Brussels Sprouts in our Bountiful Baskets order on Saturday, so I needed to come up with a tasty way to use them. Me? I love Brussels Sprouts. Munchkin doesn't like them at all. D pretty much only likes them when they are roasted, but he's still not a huge fan. I decided to do something a little different with them rather than halving them and roasting them.
I started out by cutting the base off the sprouts and then removing the outer leaves. After they were washed, I sliced them instead of cutting them in half. While I was prepping them, I melted some butter over medium heat in a cast iron pan. Once the butter was melted, I tossed the sliced Brussels sprouts in the butter. I then added garlic and seasoned with sea salt and fresh ground pepper.
I cooked the Brussels sprouts until they were tender but still had a slight bite to them. After removing them from the stove, I topped them with chopped pecans and a sprinkle of Parmesan cheese.
I thought it tasted delicious, but the moment of truth was Munchkin trying them. When she asked for seconds, I knew that I had a winner. 🙂 Daddy still hasn't tried any since I made these for lunch. It will be interesting to see what he thinks. I figure that you can't go wrong with garlic and butter. **grin**

Sauteed Brussels Sprouts
A simple and delicious way to serve Brussels Sprouts. These beautiful green, tender sauteed sprouts will replace the yucky, mushy, gray sprouts of days gone by.
Author:
Heather at MarineCorpsNomads.com
Ingredients
20 Brussels Sprouts (bottoms removed, outer leaves removed, slice)
2 Tbsp. butter (olive oil can be used for a dairy-free version)
1-2 cloves of garlic, finely diced
sea salt
pepper
pecans/almonds/walnuts (optional)
Parmesan cheese (optional)
Instructions
Melt butter over medium heat while prepping the Brussels Sprouts. Turn down heat, if needed.
Add garlic to butter and toss in the Brussels Sprouts.
Season with sea salt and fresh ground pepper.
Stir to coat the Brussels Sprouts with butter and garlic.
Turn down heat to medium low, and cook until they are tender but still bright green. (If they are browning, you can add in about ⅓ cup water and cover. This will steam the sprouts and allow for faster cooking without over browning them.)
Serve with roughly chopped pecans/walnuts/almonds and a sprinkle of Parmesan cheese, if desired.