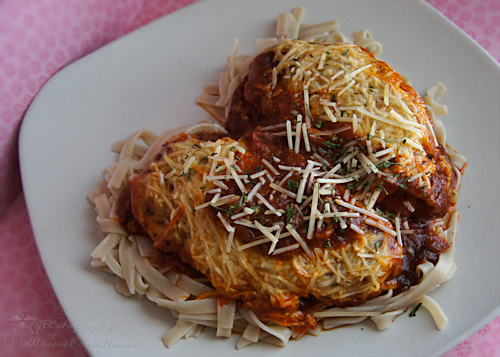 Normally, I try to surprise Munchkin with some fun Valentine's Day goodies and decorations when she comes downstairs in the morning. Unfortunately, those plans had to be set aside when our wireless router went haywire and stopped working. The good news was that the internet itself was working, but the bad news was that it took me a good chunk of the morning to get the router back up and running. Hey, at least I was able to get it to work rather than needing to purchase a new one. Sadly, that meant no fun surprises for Munchkin.

After I got all of that taken care of, I set out to do what I enjoy doing – making special food for Valentine's Day. I posted yesterday a picture and recipe for the gluten free apple cinnamon coffee cake that I made which started Munchkin's day on a positive note even without the goodies and decorations. 😉 Daddy surprised both Munchkin and me with bags of Rolos when he came home from lunch. (This is another tradition that has been around for a few years. It's his thing. **grin**)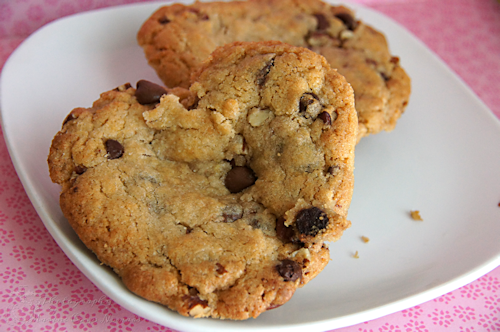 Traditionally, I make some sort of pasta dish as the main meal for the day, and this year was no different. I made D and myself Chicken Parmesan with a bed of pasta, and I served Munchkin a nice plate of pasta in a heart shape. (Munchkin doesn't care much for chicken Parmesan, so D and I just enjoy it while she has pasta.)
For dessert, I just made some gluten free chocolate chip cookie bars. I cheated on these and just used a boxed Betty Crocker gluten free cookie mix that I doctored up. Baking them in the heart-shaped muffin tins makes for a different presentation and a large cookie.
We wrapped up our day as a family by watching some episodes of Once Upon a Time on HuluPlus. After Munchkin headed to bed, D and I watched Taken 2 which he had picked up earlier in the day from Redbox. Even though the day started out a bit sketchy, we ended up having a nice Valentine's Day.