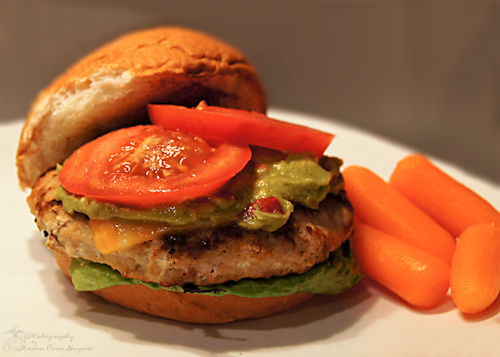 When I was told that Jenny-O was coming out with a new line of burgers – Jalapeno Turkey Burgers, I knew that we'd want to try them. I was curious to see if they were really spicy or just had a hint of the jalapeno heat. On Monday night, I prepared the new turkey burgers while D and Munchkin were at TaeKwonDo. I had even splurged and picked up some Udi's gluten free hamburger buns as Munchkin and D enjoy having their hamburgers with a bun every now and again.
Since I didn't want to go outside and turn on the grill, I chose to cook the burgers in a cast iron skillet. (Next time, I think I'll start them on the stove and finish them in the oven for a more juicy burger.) Once the burgers were done, I topped them with a slice of cheese, so it would melt while I cut up the tomatoes. (For a burger with more kick, go with a pepper jack cheese. For less kick, go with a colby jack or cheddar.) Instead of mayonnaise, I used some Wholly Guacamole. For D's burger, I used the spicy guacamole, but I used the original guacamole for Munchkin and myself. I toasted the buns and assembled the burger.
What did they think? The burgers were a hit. By themselves, the burgers aren't overly spicy which allows them to work for a variety of taste/heat preferences. Just jazz up the burger with your preferred heat level of cheese and guacamole for a delicious burger. Yum!
****Giveaway****
I'm really excited to be able to be able to offer one of my readers a Wholly Guacamole Jalapeno Turkey Burger Prize pack featuring 4 Wholly Guacamole coupons for free products, 2 Jennie-O coupons for free products, a Turkey meat thermometer, and several other fun promotional items. The giveaway is open to US residents and ends February 28, 2013.
Click to enter the Wholly Guacamole and Jenny-O Rafflecopter giveaway