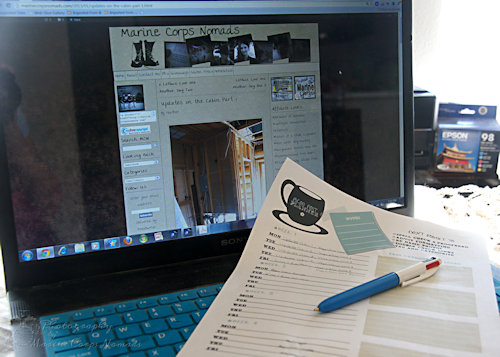 I admit it. I'm rather excited about this review because it's my first review as a member of the Mosaics review team. We were given the choice of several free blog planners that are available from other bloggers. I was pleased with the variety in our choices as it meant that we would be able to pick something that fit our personal styles. Normally, I like a detailed blog planner that has all of the bells and whistles, but given that everything was so crazy in my life at the time, I went with a planner that was simple and to the point. Trust me, I needed something to be simple. lol!
I went with the one page Blog Post Planner from Fat Bird Designs. The colors and the simplicity of the design seemed to call out to me. This planner is set up for a 5 day blogging week with room for 4 weeks. The "don't forget" checklist includes:
Spell Check & Proofread

Adjust Formatting
Rename Photos
Double Check Links
Tag and Categorize
Next to the line for the blog post of the day, there is a line to write down the tags, categories, and links. Realistically, you won't be putting any actual links in that area, but it's a good place to make any notes needed. At the top of the page, there is a small place for notes.
At first, this set-up worked pretty well for me. I did find that I missed having a calendar right in front of me for jotting things down, but as I said, I really needed the simplicity that this offered. I wasn't really in my normal blogging routine, so I didn't have a large number of items to keep track of at the time. Later, when I got back into my normal blogging routine, I found that having one page just wasn't cutting it as I had more than one post on some days. I ended up printing out 2 sheets and using one for personal posts and one for review/giveaway posts. I found that I didn't really use the tag/category/link area, so I converted that area into a checklist area for reminding me to post on facebook, twitter, google+, and pinterest (when applicable). I also made a monthly calendar to use in conjunction with the blog post planner pages.
While the overall set-up for this planner is nice, I do think it could be improved by having spaces for Saturday and Sunday posting. I don't post on the weekends very often anymore, but it's nice to have those spaces available for when I do decide to post. As it was, I ended up just jotting in some notes under Friday's line. Even without this feature, this is a nice looking, basic blog planner.

For more reviews on the other free blog planners options, check out the Mosaic Review team reviews (click on image to be taken to page).