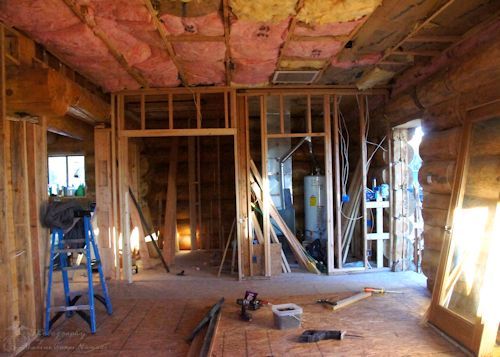 Upon arrival home from the cabin, we jumped back into our regular routine as quickly as possible. Being away from home/work/school for a chunk of time means there is a good deal of work to get caught up on. Munchkin was thrilled to be back in TaeKwonDo as she had really missed it. Thanks to the holidays, D didn't have as much catching up to do as he would have normally, but he still was quite busy. Me? Well, I had a stack of review items to go through, paperwork to be done, and of course, blogging to accomplish. Plus, there are the regular household chores and homeschooling. I was so busy at the cabin that I hadn't even had a chance to look over the pictures from when we were in MI. It was fun looking over all the pictures from our time there. 🙂
Throughout the week, I stayed in contact with P (our contractor's boss) to see where he was at with the paperwork and with the work that needed to be done. He was swamped with all of the other cases that he took over from our previous contractor, so he was barely keeping his head above water which meant that not much was being accomplished. The electric work, hvac, and plumbing were scheduled to be completed on Friday. To make a long story short…. a bid was placed by this company for the work to be completed and submitted to the insurance company. Unfortunately, our new contractor didn't have all the necessary paperwork from the previous contractor which was making everything difficult. He was trying to get everything pulled together, so I would have the new paperwork/contract with him.
Munchkin and I were scheduled to head up to the cabin early the following week as Grandma and Grandpa were going to join us at the cabin at the end of the week. We were so excited about their visit and looking forward to getting the cabin ready for their visit. We knew that not everything would be finished by the time that they arrived, but a good portion of it should have been done. Sadly, we would soon learn that this would not be the case. On Monday morning (Jan 14), I received an email from P (our new contractor) that contains an attachment showing the cost of the work that has, in theory, been completed as well as a note saying that they will no longer be working on our house. What????
I call D who is at the doctor's office for his pre-surgery (oral surgery) appointment. He ends up coming home as soon as he's done. I call the insurance company to get a stop payment on the check that has been issued. The insurance agent apologizes for everything going on as this company is on their preferred list, and they are the ones who sent them over. After a long conversation, it's determined that they'll pay the construction company for work completed, and we'll receive the remainder of the payment less a depreciation amount. We need to verify that the amount being asked for by the company is correct. Since I wasn't sure, I knew that I, along with Munchkin and the dogs, would be leaving for the cabin sooner rather than later.
After D arrives home, he calls the main office of construction company and speaks to someone higher up. We find out that they are already familiar with our case, but they were surprised to learn that the new contractor was stepping away. A lot of conversation and calls back and forth took place, but ultimately, nothing could be done until I saw what had or had not been completed at the cabin. Munchkin and I packed up and headed up to the cabin. D would follow us up later in the week, so he could also spend time with my family.
To be continued….