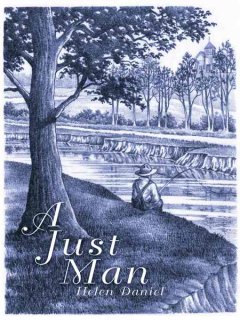 Book Description:
At the beginning of the Revolutionary War, a father and son struggle to trust in and follow God's will. Farmers, preachers, and shipbuilders, generations of the Matthews family struggle to live according to God's will. Through the Revolutionary War, droughts, and floods, they strive to hold firm to their belief in the love and forgiveness of their Creator, but will the outsiders they take into their homes and hearts reaffirm or destroy their faith? In this engrossing historical novel, set during the American Revolutionary War, readers will find a wholesome and detailed look at life and faith in the late 1700s.
About the Author:
Helen Daniel was born in rural Pitt County, North Carolina, the sixth of eight children. Mrs. Daniel's fondest childhood memory is of the day her parents came to know Christ. In 1950, she married Kornegay "Danny" Daniel. Together they owned and operated the Mid Way Service Station and Grocery north of Enfield until their retirement in 2000. For many years, Mrs. Daniel taught Sunday school and wrote children's stories and plays to supplement the lessons she taught. Her husband passed away in 2009. She currently lives in Tarboro, where her home is often a gathering place for family and friends.
Book Details:
Paperback: 148 pages
Publisher: WestBowPress (August 16, 2012)
Language: English
ISBN-10: 1449755240
ISBN-13: 978-1449755249
Product Dimensions: 0.4 x 5.9 x 8.9 inches
Formats Available: ebook, hardback, softcover
My Thoughts:
At the beginning of the book, the author states that this book was originally written as several different stories about the same family. Eventually, with some hard work and help from friends, the stories were woven together into a single book. The book follows the lives of one family through several generations. The family goes through a variety of ups and downs, but the central theme of the story is their love of the Lord and how He is there for them in good times and bad times.
A Just Man is a simple, heartfelt story about how the love of the Lord is passed down from one generation to the next. It's a story about seeking and following the Lord's will even when it's not easy. It shows how one person's love of the Lord can effect many generations to come.
I found it easy to relate to the characters in the story. Their genuine love for each other, their struggles, their triumphs, and their love of the Lord were evident throughout the story. It was a step back in time to an era where faith and family were a focus. It's not a high energy, fast-paced book, but it's an enjoyable read.