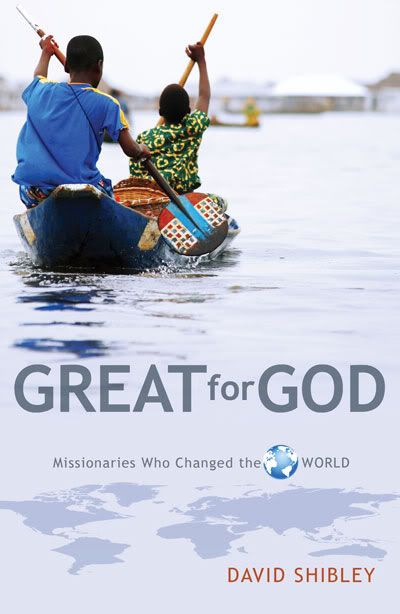 Great for God by David Shibley
Book Description:
Inspiring true stories of the courageous faith of 23 missionaries who boldly lived for God and not themselves.
With bold faith, obedience to God, and love for others, missionaries attempt great things for God. Great for God: Missionaries Who Changed the World shares the biographies of twenty three missionaries. Each chapter highlights the amazing truths of God's power at work through the lives of those willing to live for the applause of heaven.
Their great accomplishments for God challenge believers to continue to "attempt great things for God. Expect great things from God," as William Carey once stated. Author and Global Advance founder David Shibley offers Great for God to inspire every Christian, small group, and family devotion time. Teachers will find it a powerful supplement to world history and religious studies.
It only takes one courageous life in Christ to bring hope to millions! It could be yours.
My Thoughts:
I've always been interested in reading stories of the great missionaries of our nation. I think part of my fascination started due to having missionaries in my family. It's not an easy life, and it definitely takes a special person with a calling from the Lord to go to some of these foreign lands. It takes a lot of sacrifice. It also takes a delicate balance of serving others and serving your family. I appreciated that Shibley pointed out that several of the men failed to find this balance and in turn failed their families. All too often these great missionaries are put on pedestals. This quote stood out to me: "The object of reading biography… is not imitation, but inspiration." It's very important that we remember this as we read.
Great for God highlights the lives of 18 missionaries that have gone to be with their Lord, their Savior. Each of these men and women have left behind a legacy to be remembered. I enjoyed the brief overviews at the beginning of each biography. The quotes were wonderful and poignant.
"I see tonight that in spiritual work, if nowhere else, the character of the worker decides the quality of the work…. No wonder so much work in the Kingdom today is shoddy — look at the moral character of the worker." – Jim Elliot. Ouch! Yet, it's so true. I found myself really reflecting on many of the quotes contained in the chapters, and definitely felt convicted on more that one occasion.
Overall, I enjoyed the collection of biographies contained in the book. Obviously, with only 23 biographies, this is only a sampling of some of the wonderful missionaries from days gone by. (He chose to only use missionaries who were no longer with us.)
Book Details:
Paperback: 144 pages
Publisher: New Leaf Press (May 18, 2012)
Language: English
ISBN-10: 089221709X
ISBN-13: 978-0892217090
Also available in e-book format
About the Author:
David Shibley is the founder and president of Global Advance, has pastored churches in Arkansas, Oklahoma, and Texas, is the author of over 20 books, and has a bachelor's degree from John Brown University, and a master's from Southwestern Baptist Theological Seminary.
I received an e-book edition to help facilitate the writing of a frank and honest review. All opinions are my own. A positive review is not guaranteed.