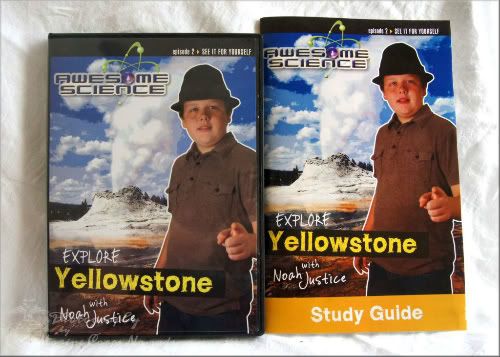 During my first review of Awesome Science: Explore the Grand Canyon with Noah Justice, I introduced you to 14-year-old Noah Justice the host of the Awesome Science video series. In the second video of this series, Noah takes us to Wyoming to visit America's first national park, Yellowstone. Yellowstone is one of the national parks that is still on our "to visit" list.
In Exploring Yellowstone with Noah Justice, Noah continues with his educational yet entertaining presentation style as he compares the two different views of the Yellowstone. The video itself is a good quality production. Noah's Dad, Kyle Justice, who produced the video has had his work featured on networks such as National Geographic and the Outdoor Channel. As a homeschool family, the Justices have gotten the whole family involved in the production of this series.
Most science videos have adults teaching the students, so it's fun to see a quality nature/science video presented by a kid to kids. Even though the videos have been done in a kid-friendly format, people of all ages will enjoy the videos.
In this 30-minute video, Noah talks about how:
the evidence points toward the Geologic Column being created by the Global Flood
super volcanoes shaped the earth after the Global Flood
the evidence points toward the petrified forests in Yellowstone being formed in a few years, not millions of years.
Viewers are encouraged to continually check scripture to make sure that the information being presented is Biblical which is something that I really appreciated.
Each video has an available study guide which includes review exercises and a discussion guide for the various segments within the video. The study guides help viewers get the most out of the videos. The suggested bonus activities will allow viewers to dig deeper into the topics being presented.
When watching the video, you'll want to make sure you check out the bloopers as they are rather amusing. Munchkin says it proves that Noah is just a regular kid.
I received a copy of the dvd and study guide to help facilitate the writing of a frank and honest review. A positive review is not guaranteed, and all opinions are my own.