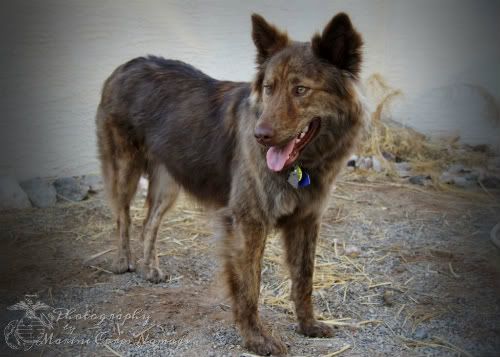 Last week, I really didn't think we'd be hearing the true, pure laughter around our house any time soon.  We continued to joke around and go about living our lives, but our hearts weren't really into what we were doing.  An under tone of sadness seemed to permeate the house and everything we did.  While we wanted to focus on the good times, it seemed that too many sad memories mingled with the pleasant memories.  Thankfully, our Wiley has helped bring back more of the wonderful memories while we make new memories with him.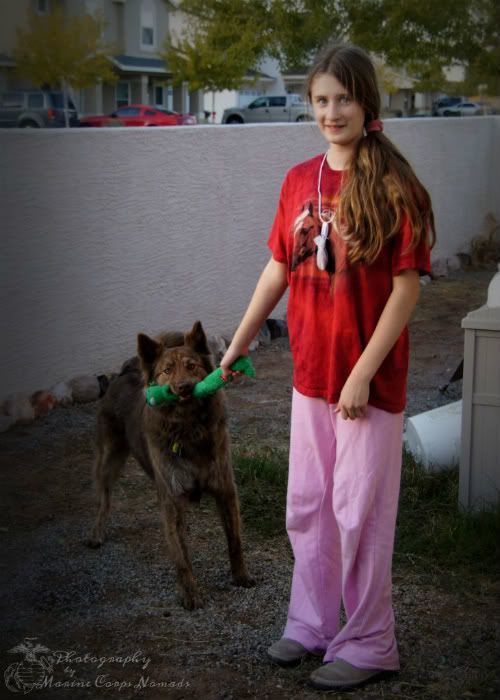 Today, I decided to try to capture some pictures of Munchkin and Wiley playing.  They both turned around and saw me taking pics and were surprised to see me standing there.  Poor Wiley didn't realize who I was with the camera covering part of my face.  (He's still very shy when he doesn't know people.)  I was surprised when he barked at me as he doesn't really bark – at least, not yet.  I have a feeling that as he gets more comfortable with us he'll probably become more protective.  He showed a glimpse of his protective side when he stood between Munchkin and myself (on the other side of the fence) when he didn't know it was me.  As soon as he saw that it was me, his tail started going crazy.  It didn't take long for him to ignore me and the camera and go back to playing with Munchkin.
Munchkin was in fits of giggles as she tried to teach Wiley how to fetch.  He was great at grabbing the ball – returning it to her, not so much.  And yes, those are tomato plants growing like crazy.  They're the same tomato plants that we put in this spring.  We thought they had died out during the hot summer, but they came back with a vengeance once the temps dropped.  Now, they're filled with tomatoes.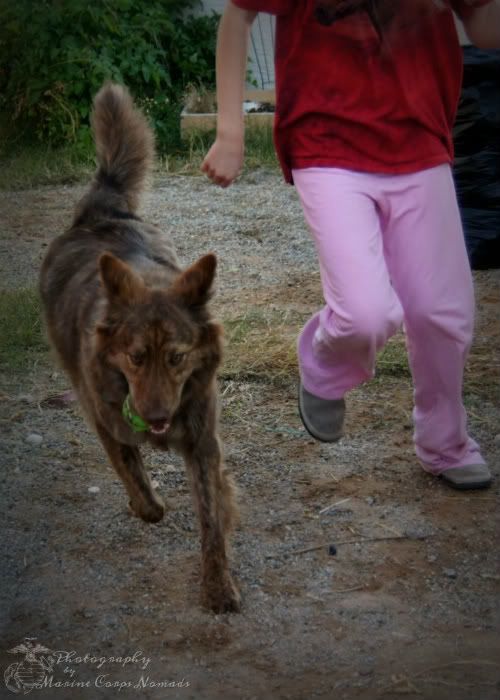 It's wonderful to hear laughter in the backyard, and Munchkin runs and plays with Wiley.  Munchkin wears a little pouch around her neck with some of "puppy's" fur in it because we miss him dearly, yet, we are enjoying the delight that Wiley is bringing into our life.  It's not all a bed of roses as he does have issues that we're working through since he's a rescue dog.  Today, he slipped out the front door, so I had to retrieve him after following him for some time.  (No chasing as that just encourages him to run.)  He did keep checking to make sure I was behind him, so he does want to be with us.  I see some obedience classes in our near future as he needs to learn a few basic commands.  **wink**  Even with some of the craziness that comes with a new dog, I am so grateful to once again hear the sweet sound of laughter at our house.