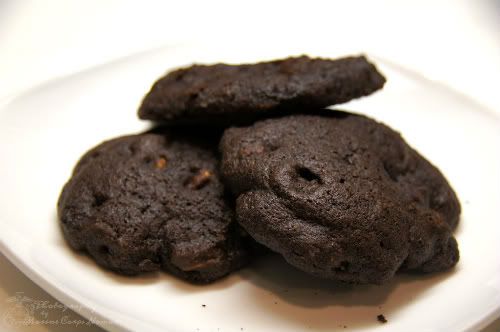 These easy gluten free chocolate cake cookies are one of the first cookies that I baked by myself as a kid.  You can use a homemade cake mix or a boxed mix.
Ingredients:
1 gluten free chocolate cake mix
1/3 C. coconut oil
4 Tbsp. water
1 large egg
1 cup add-ins (chocolate chips, nuts, m&ms…)
Directions:
Preheat oven at 350 degrees.
By hand, mix together cake mix, oil, water, and eggs.
Stir in mix-ins.
Drop tablespoons of cookie dough onto ungreased cookie sheet.
Cook 10-12 minutes until edges are light brown.
Allow to cool for a few minutes on cookie sheet before moving to a cooling rack to completely cool.
Store in an airtight container.
Variations:
Use different types of cake mixes to create different flavors of cookies.
Place softened ice cream between cookies and freeze to create ice cream sandwiches.
This recipe was featured in The Christian Home issue 41.