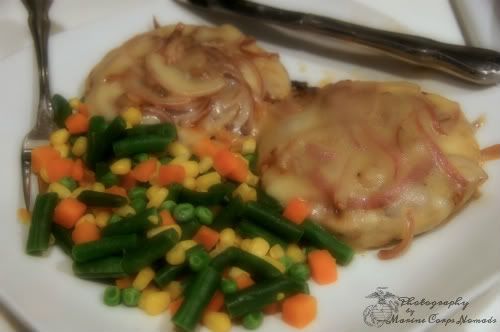 Project 365 – #260
I hadn't gotten anything out for dinner, and everyone was hungry.  I started digging in the freezer to see what we had available.  I was happy to find some frozen turkey burgers as they make a quick, easy meal.  While I was in the freezer, I pulled out some mixed veggies to serve with the burgers.  Frozen burgers go directly in the hot cast iron skillet while I slice up the onions and cheese.
For this meal, I used a small organic red onion as we had received these in our last Bountiful Baskets order.  I just sliced it in thin slices and threw them in the pan next to the burgers to cook.  I generously sprinkled Emeril's seasoning on the burgers and continued flipping them as needed.  Once the burgers were almost done and the onions were cooked, I scooped the onions onto the burgers and placed a slice of cheese on each burger.  To get a nice melt on the burger, I placed another cast iron skillet on top of the first to cover the burgers.  Right before I close the "lid", I pour in just enough water to create some nice steam to melt the cheese and keep the burgers nice and juicy.
D was hungry, so he had two burgers.  Munchkin skipped the onions and just had melted cheese on hers.  I quickly snapped a picture before these were enjoyed by my family.
While I prefer homemade burgers, I like having some of the frozen turkey burgers in the freezer for a quick meal.  Sometimes I'll serve them with fries or veggies and dip.  We usually eat our burgers without buns, but both D and Munchkin are looking forward to the cooler weather as it means I start making more baked goods for them – including gluten free buns and rolls.
This post is featured in The Christian Home issue 29.