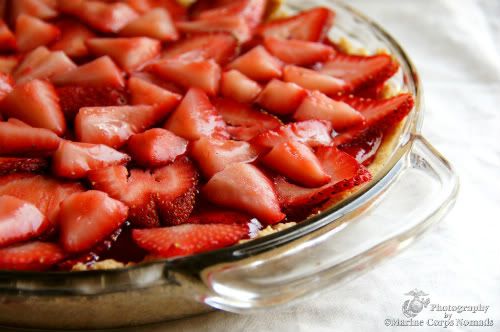 Project 365 – #176
Unlike a traditional pie crust, this gluten free almond crust version is quick and easy.  It also tastes great.  Because D has been really wanting some strawberry pie, I decided to fill this crust with a delicious strawberry filling.  Whether you're gluten free or not, this pie is sure to be a hit and your next summer time gathering.  (Add some blueberries and whipped cream for a festive 4th of July dessert.)
Gluten Free Strawberry Pie with Almond Crust Recipe
Gluten Free Almond Pie Crust
Ingredients (2 9-inch pie crusts):
3 C almond flour/meal
6 Tbsp butter, melted
6 Tbsp sugar
1 tsp cinnamon
2 tsp pure vanilla extract
Directions:
Preheat oven to 350 degrees F.
In a bowl, combine dry ingredients.
Slowly add wet ingredients to dry ingredients.  Mix until thoroughly incorporated.
Evening divide crust mixture between 2 pie dishes and press to dishes.  (Think graham cracker crust.)
Bake for 8 – 10 minutes, until golden brown.  Do not over bake.
Strawberry Pie Filling
Ingredients:
2 1/2 C water
2 C white sugar
5 Tbsp gluten free cornstarch
1 small pk strawberry gelatin
2 quarts strawberries, sliced
2 9 inch gluten free pie crusts, baked
Directions:
Thoroughly combine sugar and cornstarch in small bowl.
In a saucepan, combine water and sugar mixture. Cook over medium high heat, stirring constantly until mixture boils and thickens. Remove from heat and stir in the strawberry gelatin.
While the gelatin mixture cools slightly, arrange sliced strawberries in the pie crusts with the tips pointing up.
Pour gelatin mixture over strawberries, covering the berries.
Place in refrigerator to set.
Serve with fresh whipped cream, if desired.
Notes:
With the pie pictured, I ran out of fresh strawberries because we were enjoying snacking on them. lol!  I used half frozen strawberries – thawed – and half fresh strawberries to fill in the shell.
We like lots of strawberries in our pies, so that's why I slice the strawberries.  You could also use the strawberries whole or halved.
This post is featured in The Christian Home – Issue 21.