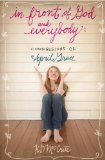 April Grace has grown up in the Ozarks.  She's very proud of her heritage, and she's protective of her family.  When some new people roll into town and start bad-mouthing hillbillies and the area, she immediately dislikes them.  When these new neighbors end up needing to come live  with April's family, April is horrified.  Then, her grandma starts dating this creepy man.  Poor April is beside herself, and she lets you know it.
April's parents are wonderful examples of looking for the good in everyone.  April, on the other hand, is very critical of others.  Her grandma tells her that she needs to learn to be more like her parents.  After a crisis leads to April getting to know the new neighbors a little better, she realizes that she's just as guilty of being judgmental as they are.
This story is told through April's eyes.  She's a sassy, tell-it-like-it-is type of gal, and the story shows it.  While her family is a Christian family, there are some things mentioned that some readers may not appreciate such as people cussing (no bad words are actually in the story), watching soap operas, smooching (nothing detailed), smoking, and drinking.  Because of the attitude of Isabel (the new neighbor from the city), April's older sister ends up developing an eating disorder (which is addressed well once it's discovered).
All that being said, there is no denying that the story is funny.  It is definitely geared towards preteens/teens.  Whether or not you will enjoy the book will depend entirely on the type of humor you prefer.
About the Author:
K.D. McCrite was raised on a small dairy farm in the Ozarks. The rural life is a strong element in her books, and humor drives the plots. She has a degree in psychology from Drury University, and has worked as a librarian and as a mental health case worker.
These days, K.D. thinks there is no finer life than to create and share her stories with others. She hopes those stories brighten the lives of her readers.
Book Details:
Reading level: Ages 9-12
Paperback: 304 pages
Publisher: Thomas Nelson (May 10, 2011)
Language: English
ISBN-10: 1400317223
ISBN-13: 978-1400317226
Retail Price: $9.99
I received a copy of this book as a member of BookSneeze to help facilitate the writing of a frank and honest review. A positive review is not guaranteed, and all opinions are my own.