Using Jule's gluten free challah bread recipe, I made two braided round challah bread loaves.  We ate one of them on Friday, and I decided that I would use the other one to make a special treat for Christmas.  We all thought it turned out really well and tasted delicious.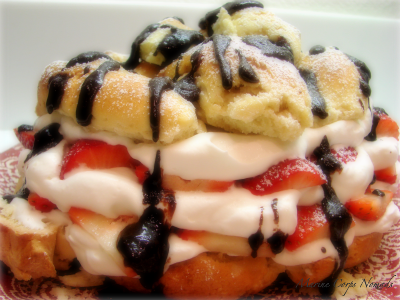 Gluten Free Strawberries & Cream Challah Dessert Recipe
Ingredients:
1 gluten free challah bread loaf
1 1/2 cups heavy whipping cream
1 tsp vanilla
4 Tbsp powdered sugar
chocolate syrup (for drizzling)
powdered sugar (for dusting)
Strawberries (sliced)
Directions:
Slice loaf of bread in half to create a top and bottom for your dessert creation.
Whip together heavy whipping cream, vanilla, and powdered sugar to create fresh whipped cream.
Place a layer of whipped cream on top of the bottom of your challah loaf.
Layer with sliced strawberries.  Repeat with twice to create delicious, beautiful whipped cream and strawberry layers.
Top with the top piece of your challah loaf.  Drizzle with chocolate sauce and dust with powdered sugar.
Slice and serve.
Serving suggestions: place in bowl and pour a little milk in the bowl with the dessert.
This post is linked to Holiday Bliss and Gluten Free Wednesdays.