Thanks to Chex now being gluten free, we are able to once again enjoy this fun treat.  This sweet treat is not only delicious, but it's also fun for the kids to make.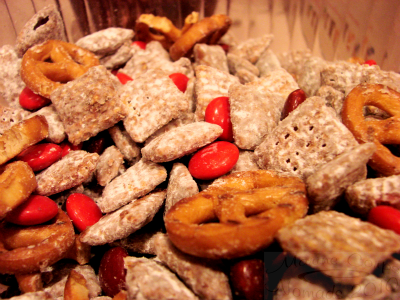 Gluten Free Reindeer Chow Recipe
Ingredients:
1 8oz. bag of gluten free pretzels
2 cups M&Ms
5 cups rice chex
4 cups corn chex
1 cup semi-sweet chocolate
1/4 cup butter
1/2 cup creamy peanut butter
1 tsp vanilla
1 1/2 cups powdered sugar
Directions:
Place cereal in a large mixing bowl.
Put butter, peanut butter, and chocolate chips in a microwave safe bowl. Microwave on high for 1 minute.  Stir until thoroughly combined. Microwave in 15 second intervals if not melted.  Add vanilla.
Pour melted chocolate mixture over cereal. Stir until all cereal is coated.
Place cereal is gallon size ziploc bag.  Add powdered sugar to bag.  Shake to coat all of the cereal.
Dump all of the cereal into a large mixing bowl.  Add pretzels and M&Ms.  Stir to thoroughly combine.
Store in an airtight container.
This post is linked to Holiday Bliss.