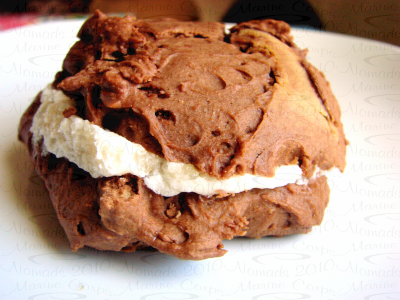 After reading about all of the different whoopie pies people were making, I knew that I needed to dig out my grandfather's recipe and try a gluten free version.  While the result isn't perfect and doesn't look quite like a traditional whoopie pie, it was delicious.  I had purchased some Jules Gluten Free Flour to try, so I used that in this recipe.
Gluten Free Whoopie Pie Recipe
Cake
Ingredients:
2 large eggs
2/3 C butter
1 1/4 C sugar
1 C milk (I used vanilla almond milk)
2 1/2 C gluten free flour (I used Jules Gluten Free Flour mix which contains xantham gum)
1/2 C cocoa powder
3 tsp baking powder
1/2 tsp salt
Directions:
Cream together eggs, butter, and sugar.
Add in milk.
Combine flour, cocoa, baking powder, and salt in separate bowl.
Slowly add flour mixture to liquid mixture.  Beat until smooth.
Drop on cookie sheet.  Smooth out tops and make sure the dough is in a round shape if you want round whoopie pies.  (I forgot this step and ended up with some crazy shapes and less than smooth tops.)
Bake for 10-15 minutes at 350 degrees F or until toothpick comes out clean.  Depending on how large you make your whoopie pies, your baking time may be more or less.  The notes say that this recipe makes approximately 16 pies.
Cool completely.  Cut cakes in half to make upper and lower portions of the cake cookie.
Filling
Ingredients:
3 Tbsp gluten free flour
1/2 C milk (I used vanilla almond milk)
1 C powdered sugar, sifted
10 Tbsp shortening ( I used butter as I was out of shortening)
1 tsp vanilla
Directions:
Put flour and milk in sauce pan over medium heat.  Stir constantly and cook until mixture creates a glob.  Remove from heat to cool.
Once the glob is lukewarm to the touch, place in mixing bowl.  Add remaining ingredients and whip until smooth and fluffy.  (If mixture gets too warm, place in the fridge to cool and then continue mixing.)
Fill cooled cakes with mixture. Divide mixture evenly between cakes.
Notes: I like to individually wrap the cakes.  These can be frozen and eaten later.  Just individually wrap each whoopie pie and the place in freezer safe bag or container.
This post is linked to Holiday Bliss.