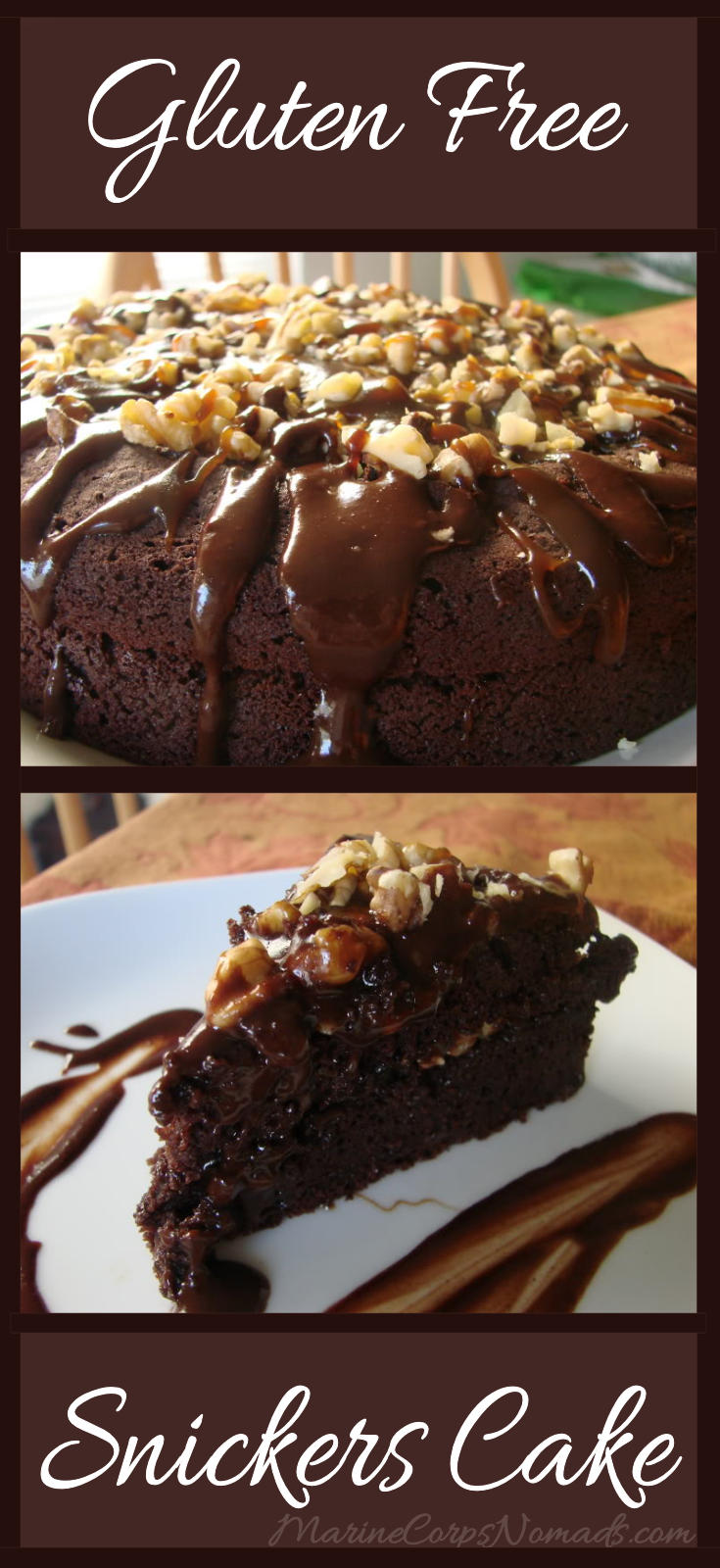 Sometimes, you get a craving for a really decadent dessert. Both Munchkin and D like their chocolate, so I decided to go all out. I transformed a basic gluten free chocolate cake mix into a delicious dairy free gluten free chocolate snickers cake.
While I used my homemade gfcf chocolate sauce and gfcf caramel sauce, you can easily use a store purchased fudge sauce and caramel to create the dessert. I like walnuts or pecans, but you can use any nut you have on hand. If you want it to be a true to the snickers candy bar, you'll want to stick to peanuts. I like to play around with flavors and textures, so I opted for different nuts.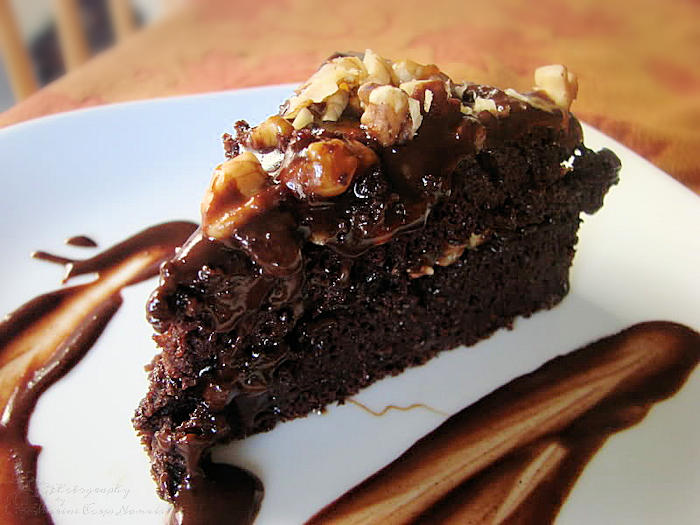 Start off by baking your chocolate cake as directed on the box. You'll want to use 2 round cake pans. Once the cakes are completely cooled, you'll start the assembly process.
Place one layer on your plate or cake board. Top this first layer with nuts. Drizzle with both chocolate and caramel sauce. Place the second layer of your cake on top of the first. Sprinkle with nuts. Generously drizzle the entire cake with chocolate sauce and caramel sauce. Sprinkle with more nuts, if desired.
Decadent GFCF Chocolate Snickers Cake
Ingredients
1 gluten free, casein free chocolate cake mix (or make your own chocolate cake from scratch)
Homemade gfcf chocolate sauce
Homemade gfcf caramel sauce
1 - 2 cups of chopped nuts (I used walnuts as that's what we had on hand)
Instructions
Bake cake according to directions using round cake pan(s). (This will be a 2-layer round cake.)
Remove from pans immediately after baking and cool on cooling rack.
Trim off any extra cake on top to make cake(s) level. If using only 1 round cake, slice the cake in 2 horizontally to make 2 layers.
Place 1 layer on plate. Sprinkle with nuts. Drizzle with both caramel sauce and chocolate sauce.
Place 2nd layer on top of first layer. Sprinkle with nuts. Drizzle with both caramel sauce and chocolate sauce.
Top with a few more nuts if desired.
Slice, serve, and enjoy.
http://marinecorpsnomads.com/2010/11/decadent-gfcf-chocolate-snickers-cake.html
This cake is really rich, so you'll only need a small piece which makes it perfect for parties. You can serve it up with some vanilla ice cream if you want to balance out all of the richness in the cake.
My husband loves to eat this gluten free chocolate snickers cake while it's still warm or heated up in the oven right before serving. He says you can't beat it when it's warm and topped with a big scoop of vanilla ice cream.
I'm linking up to Tatertots and Jello Weekend Wrap-Up, Slightly Indulgent Tuesdays, and Gluten Free Wednesdays.