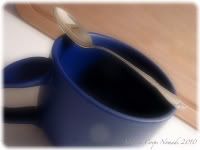 When you're feeling under the weather, a bowl of hot chicken noodle soup usually hits the spot.  The problem?  You usually don't really feel up to making the soup.  In order to create a nice hot meal for my family while I was feeling icky, I decided to make a super easy gluten free crockpot chicken noodle soup.
Quick and Easy Gluten Free Crockpot Chicken Noodle Soup
Ingredients:
3 boneless, skinless chicken breasts
4-6 cups water
1 to 1 1/2 Tbsp powder (gluten free) vegetable broth
2 bags of frozen mixed vegetables
1 cup Tinkyada brown rice pasta, uncooked
1/2 a small sweet onion, diced
Directions:
I placed 3 frozen boneless, skinless chicken breasts in the crockpot with 1 Tbsp of vegetable broth powder and 4 cups of water.  I set the crockpot on high for 3 hours.  After 3 hours, I slightly shred the chicken and turn down the crockpot to low for 1 hour.  I add in the diced sweet onion.
About an hour before we planned on eating, I finished shredding the chicken into bite-sized pieces and added the frozen vegetables and uncooked pasta.
Since D wasn't home in time for dinner, I put the crockpot on warm to allow him to enjoy delicious, hot soup when he arrived home from work.
Everyone enjoyed this easy to make chicken noodle soup.  In fact, they enjoyed it so much that I didn't get to take a picture of the soup.  (D took the leftovers to work for lunch.)  This is a very hearty soup as it's filled with chicken (as D likes).  You could easily stretch this to make a larger quantity by adding more water, broth, veggies, and pasta.
This post is part of Works for Me Wednesday and Gluten Free Wednesdays.