Last week, I shared a picture of my stocked freezer.  This week, after some much needed organization, I am sharing a couple of pictures of my pantry.  One of the things that I really like about this house is the size of the pantry.  It's nice and big with good storage space.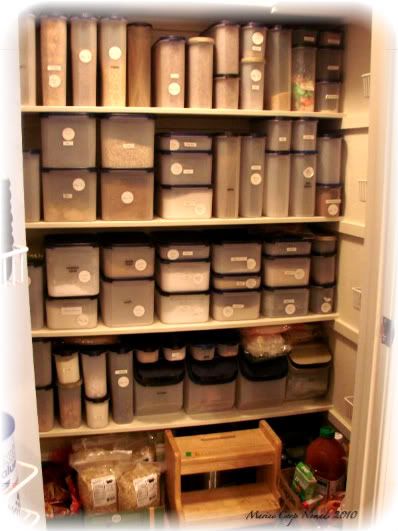 The first picture is of all of the items that I store in Tupperware.  At any given time, we have several different kinds of gluten free cereal on hand.  I have various types of gluten free flours including: teff, amaranth, sorghum, sweet rice, white rice, brown rice, tapioca, corn, and potato.  You'll also find tapioca starch, potato starch, xanthan gum, and corn starch.  (I'm sure I'm probably forgetting some. lol!)  Other baking supplies include regular sugar, brown sugar, cane sugar, powered sugar, various chocolate chips, raisins, and nuts.  There are several different types of brown rice pasta (spiral, spaghetti, shell, lasagna, elbow…).  You'll find assorted types of rice.  Sometimes, you'll find chips (tortilla and plain), pretzels, and cookies.  There is usually popcorn, cereal bars, and natural fruit leather.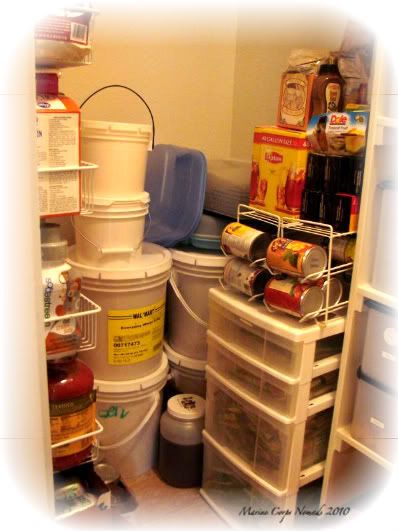 The next picture shows my big storage buckets where I keep large quantities of rice, dried corn, and other grains.  The smaller buckets contain palm shortening and shredded coconut.  There is a big jar of honey.  I keep a few cans of veggies around, but we prefer the frozen veggies.  I have olive oil and coconut oil as well as natural peanut butter.  I usually have lots of spaghetti sauce, but I'm running low on that right now.
(Not all of the Tupperware containers are full right now.  I gradually restock these items.  A little bit here and a little bit there.  I don't do as much baking in the summer, so I've focused more on getting the freezer filled.  Pretty soon, it will be time to get back to baking.  I'm looking forward to the cooler evenings filled with yummy baked goods….)
What items to you consider "must have" in your pantry?  What special treats to you like to have in your pantry?