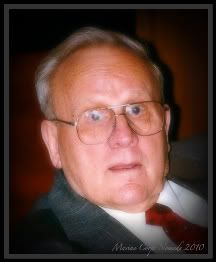 Many miles away, my family is holding the memorial service for my Grandpa.  It's a small, graveside funeral.  People are sharing stories, memories.  Tears are being shed.  Hugs are being given.  Laughter and sorrow will be mixed together.  It's a bittersweet day for all.
You see, my Grandpa has been ill for some time.  He had many ups and downs.  He was a fighter, but even fighters eventually must rest.  He is now eternally resting.  We all knew that this day would come, but saying that final goodbye is not easy.  I will chose to focus on the positive today.
Since I am not there to share my memories, I will share here…
My Grandpa was a blunt man.  He would always say it like it was.  Sometimes what he said would sting, but it was the truth.  So, in honor of my Grandpa, I'll say it like it was…
My Grandpa was a ornery, hard-headed, feisty man who had a heart of gold.  He was a WWII veteran who didn't really talk about his Naval service.  Over the last few years, he wasn't completely himself, but he still brought smiles to the faces of others.  He also gave people grief.  He had good and bad days.  It was a roller-coaster ride that I'm sure that he's glad to finally exit.
My memories of my Grandpa are ones of before he was sick.  He was a strong, vibrant man who loved the great outdoors.  He could tell you all about the trees, plants, wildlife.  He loved to fish and shared that passion with others.  He was happiest when he was surrounded by nature.
I close my eyes and remember hiking up the mountains, picking blackberries, fishing, laughing, and talking.  Grandpa instilled a love of nature in his kids.  That passion was passed down to their kids (me included).  Now, D and I are passing that love down to Munchkin.
I am grateful that I was able to share those special moments with my Grandpa.  I'll hold onto those beautiful memories as I say goodbye.  We love you very much, Grandpa.  You will be dearly missed.