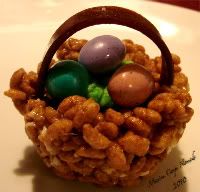 These start off with the traditional recipe – 3 Tbsp butter, 1 package large marshmallows, and 6 cups rice cereal (I used gluten free Koala Crisp cereal – chocolate crispy rice).
Prepare as usual – melt butter over low heat until melted, stir in marshmallows until completely melted, remove from heat and add cereal, stir until cereal is completely mixed in.
Grease some muffin tins (I greased with coconut oil) and add cereal mixture.  Make a well in the top, so you can "fill" the basket.
For the green, I used green marshmallows as Munchkin doesn't like coconut.  I added M&Ms for the eggs.  For the handle, cut fruit leather in strips and press into cereal mixture.  Allow to cool and eat.
This post contains affiliate links