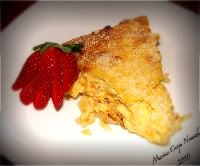 Cheese Quiche with Hash Brown Crust
Ingredients:
3 C shredded hash browns
1 Tbsp butter, melted
1 cup grated cheddar cheese
3 eggs
¾ cup cream
¾ cup cottage cheese
1 tablespoon potato flour
2 teaspoons spicy mustard
¼ teaspoon minced onion
½ teaspoon sea salt
¼ teaspoon black pepper
4 tablespoon grated Parmesan cheese
Directions:
Preheat oven to 400 degrees F.  Grease pie pan.
Place shredded potatoes in pie pan to create crust.  Brush with butter.
Cook for 25-30 minutes until golden brown.
Remove from oven and reduce heat to 350 degrees F.
In a blender, combine all remaining ingredients except Parmesan cheese.  Pour into potato crust.  (Don't overfill.  Place any remaining mixture in a greased baking dish and bake.)
Bake for 40 minutes.  Remove and sprinkle with Parmesan cheese.  Bake for 10 more minutes.
Allow to cool slightly and serve.
This post is part of Tuesday Tastes.